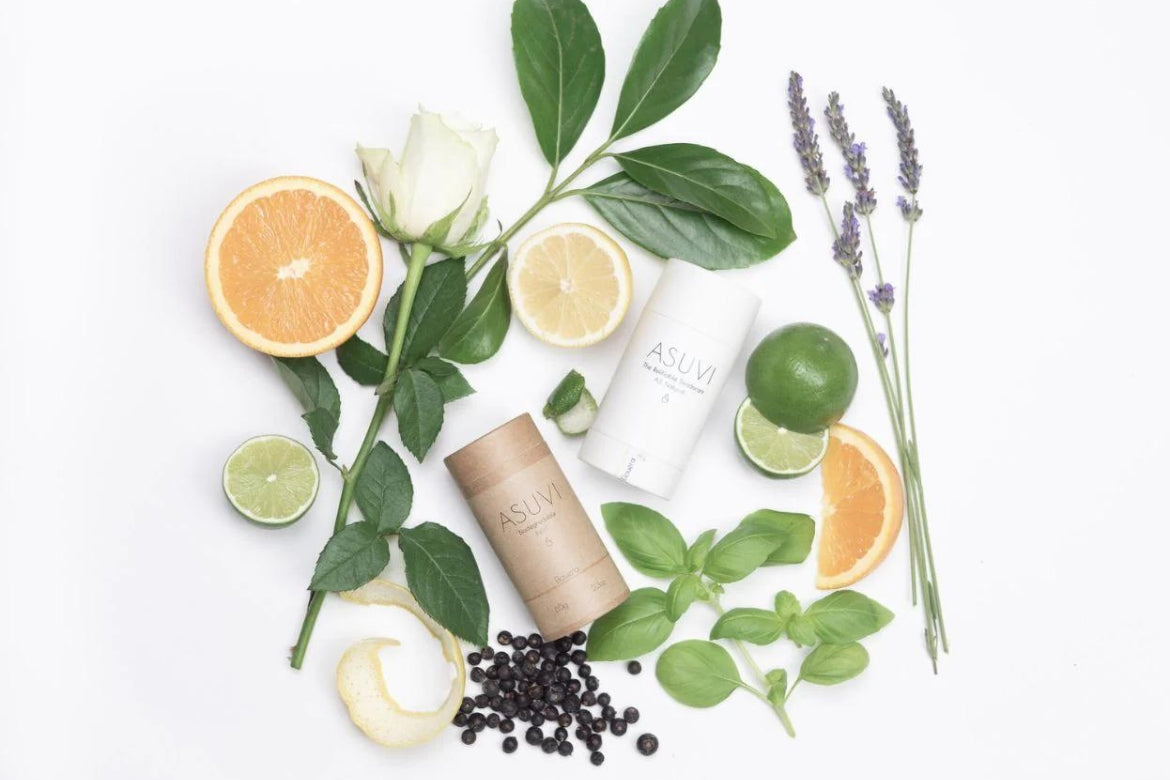 When it comes to body odour and finding a product that is guaranteed to make you smell like roses for 24hrs-plus not many people think to look for the natural option. At BLAEK Store we love to find new products that not only tick all our responsible business boxes but work too and we wouldn't be doing our job properly if we kept all these products locked away in a secret box, that's why this week's brand spotlight is our favourite B.O buster, Asuvi.

Founded by local Northern Beaches resident, Thomas Richard, Asuvi was born out of an itch. Not the sort of itch you get as an entrepreneur where you think of a great business idea and want to run with it, Thomas says it was a literal itch, a reaction to aluminium from regular, non-natural deodorant back in 2015. After searching high and low for a natural deodorant that worked, Thomas realised there was a huge gap in the market for an effective, eco-conscious and natural deodorant that had you coming back for more.



Why are we so obsessed with Asuvi at BLAEK Store? It has multiple pros and zero cons. Zero! We've been brought up thinking that we need antiperspirants, also known as aluminium, this is the core ingredient that stops us from sweating. Fun fact, (I love a fun fact!) the body sweating is a natural cooling mechanism, this is one of the reasons why you sweat when you exercise, so you don't overheat!  Some people don't have hair under their arms, this means they're feeding their body directly with aluminium and toxic chemicals masked as fragrances. I think it's obvious why this is not an ideal situation.
You're probably thinking, yes but if I sweat all over the place, people will start avoiding me. Ok, fun fact number two, sweating stops odours naturally, what causes odours is sweat combined with bacteria that already exists on your skin. Look there are some blessed people out there that just don't ever have B.O, I've never met one of these people, but I've heard stories about them, so they must be real. For the rest of us, natural deodorant will allow our bodies to sweat all while neutralising any odour with naturally derived botanicals and ingredients.

So, Asuvi is better for our health and the health of those around us (no more copping a face full of Rexona Cotton Fresh in the gym change-rooms!) it's also better for the planet as a waste free alternative to most other brands with their reusable tube and biodegradable refill process. In the long run it's also cheaper as you will need on average 2-3 refills a year as opposed to 10-12 top ups of your normal supermarket brand. We love more bang for our buck, especially in this climate.



In 2018 Asuvi launched with 3 signature scents, a sleek white reusable tube made from 100% post-consumer recycled plastic and the world's first biodegradable refill system for deodorant. The process is simple, firstly, choose your scent. My go-to is Palm Grove, it's sweet with tones of tonka beans and cedar wood and I've managed to somehow convince every customer to smell exactly like me by jumping on the Palm Grove train. You purchase a reusable tube, it's pre-filled, and it will last you on average 6 months. Once you've finished your first pre-filled tube you can purchase a refill and pop it into your reusable tube, and you're set for another season of smelling fresh on the daily without the nasties and excess waste.
Recently, Thomas introduced a black reusable tube and two more scents. If I can't convince you to join me in the Palm Grove revolution there's Aqua & Earth (Tom's go-to!) it literally smells like the outdoors, it's refreshing with notes of patchouli and ylang ylang. You've also got Elouera, a fruity scent of tangerine and bergamot. The new kids on the block are Angophora which has notes of geranium and musk and Wandearah which is floral-y and smells of roses and jasmine.

My top tips for using natural deodorant if you're new to this is the two-swipe rule, that is, apply two 'swipes' of deodorant under your arms and then rub it in. Any excess that might be on your hand you can rub in like moisturiser on your body or if you are anything like our BLAEK Store staff, you can pop it on the ends of your hair or use it on your neck as perfume. It's natural and harmless, if anything it will only increase the awesomeness of whatever you put it on. I have heard rumours that some people experience an adjustment period when switching to a natural deodorant and that you might have to reapply throughout the day. This might be the case if you've been wearing Lynx Africa since the 9th grade, that stuff is potent. I personally haven't experienced this, the B.O gods have been kind to me but never fear, everybody and every-body is different, an adjustment period if you ever experience one, will only last maximum 1 week. But it's worth it.
So now you know the secret to smelling good all day long, the hardest part is choosing which scent best suits you. Oh and to make things even harder Asuvi have also recently released a pump hand wash with refill sachets which we also love!
Your armpits (and hands) can thank us later.

Shop ASUVI here