INTO Carry x Nikki - From Waste to Wear the Ultimate Aussie Collab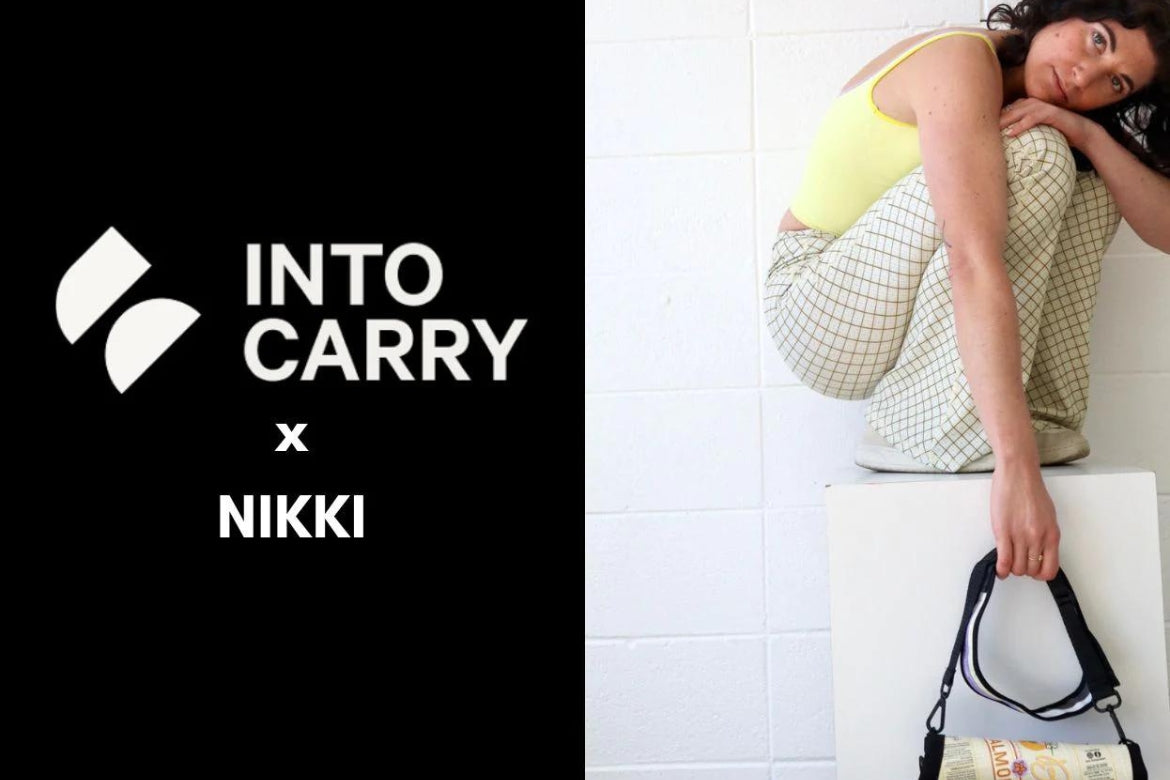 In December 2022 I knew I needed to upgrade my zero-waste game, but little did I know five months later I would be wearing the waste I personally diverted from landfill.
It all started with a simple breakfast smoothie, now if you know me you know I love routine, I have the same smoothie for breakfast 4 days a week. You're all thinking, that's great Nikki, we don't care what you eat in a day and fair enough, it honestly doesn't make for interesting content. What I did realise though was that the planet and my body cared that I was consuming almost 2 litres of almond milk a week. Why do I drink almond milk? Well, I've been allergic to dairy since I could walk, so I grew up drinking soy milk because that was the only milk alternative in the 90's and now I'm sick of drinking soy milk for the last 30 years so almond milk has been my go-to.
Drinking 2 Litres of nut milk a week and watching the pile of empty non-recyclable tetra pack cartons accumulate in my landfill bin was disheartening. So, while I was contributing to the world's worst waste problem, I was also pumping myself with a few ingredients I probably didn't need every single day and when I looked on the back of my almond milk tetra pack there was only 2.65% of almonds in each carton. Don't get me wrong, it was delicious but there are better alternatives out there.
I was ready to find a solution to both my waste problem and my non-nut milk, nut milk conundrum. My phone had clearly been listening to me and watching my every move because I was served an Instagram ad for an Aussie made nut mylk brand that comes in a jar, in paste form using the simplest ingredients. My life was about to change for the better. The redeeming features of said nut mylk included recyclable packaging, money saving, one jar is the equivalent of 10L of milk and is only $30, time saving, it takes 1 minute to make, and it's made from Australian certified organic and Australian grown and insecticide free nuts and legumes. Mind blown. Every box ticked.
Six weeks passed until I finally made the change over to my new life as one of those people who 'makes their own nut milk' Ok, so I'm not actually making it, all I have to do is add water and blend, but I'll take the credit. In that six-week period leading up to my first nut mylk experience I collected 18 almond milk tetra pack cartons, that's the equivalent of almost two jars of almond mylk paste and a saving of about $40. So, I was left with a pile of empty cartons, what's better than throwing your waste to landfill? Repurposing it! and I knew exactly who to call to help me with my waste problem.
In comes
INTO Carry
, a Melbourne based company headed up by Luke, an absolute legend who gives up his time to educate his community and provide them with not only turning waste into wear but also serving up epic grub and caffeine at his café INTO Coffee. I visited Luke at the beginning of our collaborative journey and was blown away by all the amazing initiatives he has implemented both at INTO Coffee and INTO Carry. He provides edible coffee cups for takeaway coffees or an on-the-spot reusable cup washing machine, a refillable milk station and soap made from their excess coffee grounds packaged in paper made from their receipts. It's so circular my mind is spinning. If you're in Melbourne I highly recommend popping by, having a coffee, and maybe even attending one of their upskill and upcycle classes.
Thanks to Luke we turned my waste into a range of carry wear using the signature
INTO Carry
patterns our BLAEK Store customers have loved over the last four years. We've made three items, you've got the trusty Mini Sidekick, which if you're my friend you've seen me wearing for the last few months. This is a wardrobe staple and fits your phone, wallet, keys, coins, and lip balm. It also has an internal pouch perfect to hold your cards if you're more of a big wallet kind of person. It folds flat for easy storage, cleaning and repairs and has detachable straps to be used as a clutch. Next, we've got a semi-rigid glasses case, perfect to keep your glasses safe when on the go and when you're wearing your glasses this case quickly and easily folds flat so you can tuck it out of the way. Lastly, we've got a 15-inch Laptop case, which is equal parts protection and practicality with its rigid shell and front pouch perfect for papers, notebooks, and love letters. Its slim profile can easily tuck away in your bag. Each piece is made from the 18 empty cartons of Almond milk I collected over 6 weeks.
What started as a relatively simple and sustainable swap became an eye-opening journey, I realised how much waste I was producing as a single person each day just in one meal. We become comfortable with what we know and sometimes forget to step back and look at the impact we are having as individuals on the world around us. The best part is that if we flip this on its head, we can see that the positive impact we can have as individuals far outweigh the negative. What's even better is when we work together as a force for good.
To date I've diverted almost 72 cartons of milk from landfill, if you want to join me on this journey come say Hi, over on Instagram
@nikkichanch
or start your waste free life over
@blaek.store
The range is small and few and exclusively available in store and online at
BLAEK Store HERE
from Thursday 25th May 2022.
To get a piece of my trash turned treasure, run! Don't walk.