BRAND SPOTLIGHT - MADRE NATURA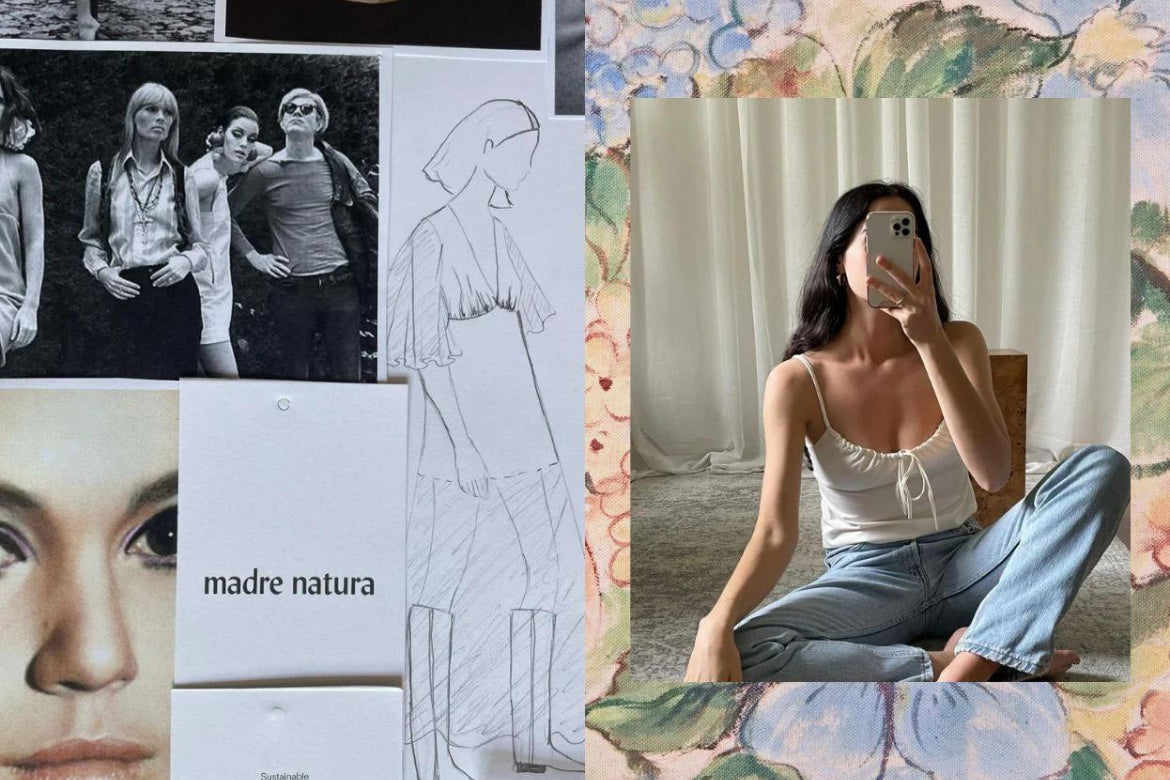 Coronavirus had a significant impact on everybody, in every country around the world. To say that it has changed us is an understatement. The ABR Reported that by the end of February 2022 1.3 million people (9.5% of employed people) changed jobs. Some people had no choice, they were forced to look for work elsewhere. For others, they gained a new perspective on what they wanted to put out into this world, that's exactly what happened to Jackie Galleghan from Madre Natura. 

While some of us were having facetime cooking sessions with our friends, eating Uber Eats every night and rolling out of bed at 8.55am for their 9am meeting, Jackie was busy working on a new vision for an optimistic future. Having previously worked in fast fashion Jackie was determined to change the narrative and implement a full reset on consumption habits of consumers.


If you didn't already know, fast fashion is out, dead, kaput, it's done. Gone are the days when you would buy a $15 tee shirt, only for it to last you a few weeks before it loses shape, starts to unravel and before you know it your once beloved crisp white tee is now a loose-fitting pyjama top. You know the ones I'm talking about; we've all got them; we've got an entire draw full of 'I used to wear this top out but now it's too ratty to be seen in public' kind of tops. It's looking far more drab than fab and it's not even worth passing on as a pre-loved item. (Don't forget we'll take all your pre-loved / damaged old clothes for recycling any day of the week!) Let's not forget the unpaid wages of the women who made your top and the amount of money you will waste continuously repurchasing items that haven't stood the test of time. It's time to ditch the old consumption model and jump on the slow, long lasting, handing-this-piece-down-to-my-children model. 
Madre Natura was born in the depths of the Covid-19 Global Pandemic and Jackie's vision was simple, 'promote and increase the focus on quality, durability and longevity of each garment' and that is exactly what she has achieved and then some! Beautiful silhouettes made from fabrics such as cotton, linen and ramie (a vegetable fibre that looks similar to silk) using dead stock fabric (fabric that has been discarded from bigger brands and destined for landfill) are what create this meaningful wardrobe that easily fits into your everyday. Each piece is handmade right here in Sydney and should be considered an investment piece, made to last. 
What else makes Madre Natura so special? It's the circularity model that Jackie implemented from day one. Not only are lifetime repairs offered through the MN_Circular program Jackie will also take back your unwanted or un-repairable garments and reprocess these back into usable fabric. This is a completely circular model, one we 100% support here at BLAEK Store. 


This is one of the reasons why small businesses are so darn amazing, they have the freedom to be nimble from the outset. You want your dress fixed? Sure, no problem send it to me, I'll fix it and send it back. No strings attached no red tape just pure passion for honest business. This is why supporting small is so important, we may not be as popular as the big players, but we are mighty and we are changing the future of retail for good.   
This year Madre Natura was nominated as a finalist in the PayPal Melbourne Fashion Festival National Designer Awards and will be showcasing her pieces on the runway during Melbourne Fashion Week today! (Thursday 9th March 2023).
If you're in the market for some beautiful, timeless well-made pieces, look no further than Madre Natura.
"Madre Natura is a love story for our planet and it's people" – Jackie Galleghan

Shop Madre Natura at BLAEK Store or online HERE