Easy Swaps – From Fast Fashion to Slow Fashion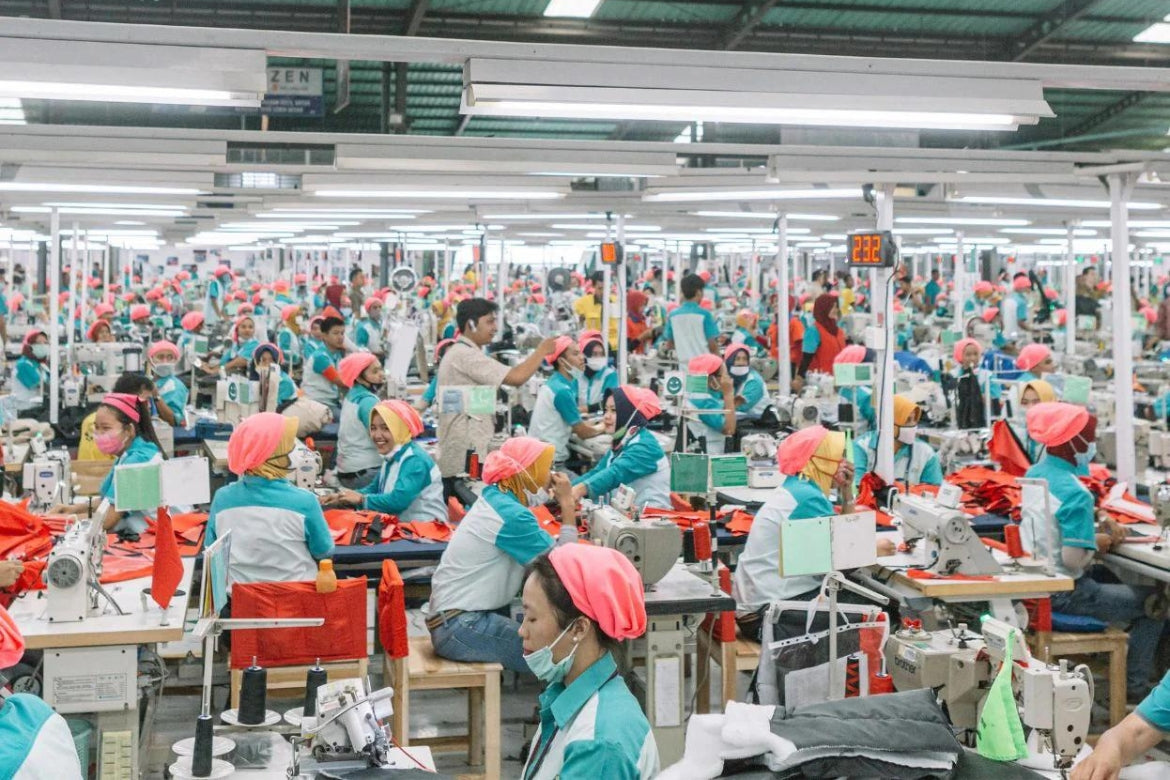 It is said that conscious shoppers are on the rise, but recent findings indicate that while more people 'want' to be more sustainable in their everyday choices, consumers aren't putting their money where their mouth is. Why is this? Are sustainable products too hard to find? (HELLO!!! Shop at BLAEK Store!!) or when it comes down to it, are people finding it too expensive? 
While fast fashion is on the decline, albeit rather slowly - I'm literally turning into a skeleton over here, there is no denying that we have been brainwashed for the last few decades. We've been convinced that cheaper is better because we get more 'bang for our buck'. We'll be saving money if we buy three different coloured tee shirts at $35 each as opposed to one white tee shirt for $80 - $100. The truth is, that's just a marketing ploy to get you buying more, the old 'spend and save' trick. It's so catchy just reading the words makes me want to go find a bargain.

Over the past 9 years I've had to actively re-train my brain to realise that cheaper is not better and in the long run you end up spending more money because cheaper products don't stand the test of time. I think the tag line 'you get what you pay for' is more fitting when it comes to shopping of any kind, not just for clothing. Ok Nikki, so how do we make better shopping choices when every brand out there is telling me they are 'good for the planet'? I'm here to provide you with some top tips on how to ditch fast fashion and jump on the slow fashion train. 
The easiest way to swap from fast fashion to slow fashion is ask yourself a series of questions right before you go to tap that shiny plastic card full of invisible money. The more often you do this the easier it gets.
Question one; Do I need this? Honestly ask yourself this question, could your money be better spent elsewhere? Are you just shopping for the sake of shopping? If you definitely need to purchase something, carry onto question two. 
Question two; Has this garment had a previous owner, is it pre-loved? If your answer is 'Yes!' head straight to the counter and give that baby a second life. Pre-loved clothing is a great alternative, and you can get some items that have never been worn, perhaps they were the wrong size for someone else but perfect for you. I recently bought a brand-new pair of Veja sneakers half price off Facebook Marketplace. The previous owner didn't fit into them. I've worn them every day since I bought them so if you take into consideration cost per wear, they've cost me $0, that's a bargain if you ask me.
Question three; Can I rent it? If you're out buying an outfit for a specific function, ever considered renting? Rental is a great way to keep a 'fresh' wardrobe without the price tag. You can wear a different $1,000 dress to every wedding you attend for a year and pay less than $500 total. That is a huge saving, not to mention how amazing you will look at each wedding wearing something that you otherwise would have only got one wear out of because you decided this month floral was your jam.
Question four; how much does this garment cost? This question is an instant weed killer. A tee shirt should not cost $35, if you break this down it means that it would wholesale for $17, which means the cost to make it was about $9. This $9 includes fabric, trims, dying, cutting, and making (yep somebody's wage!), this is an unsustainable business model. So, what is the true cost of a tee-shirt? On average for a small brand, a tee-shirt will cost around $35 to make in Australia which means its retail price is minimum $120-$150. Tee-shirts are the most basic item to make, so anything less than $80* is most likely not ethically made. This is the reason why a lot of sustainable fashion is higher priced, everything is taken into consideration, from the cost of fabric, zips, buttons, swing tags, cutting, making, embroidery whatever it takes to make it needs to be factored in. *It should also be noted that more established brands have the advantage of making large quantities which brings down their retail price but no piece of clothing should be less than around $60.

Question five; What is this tee-shirt (pants, jacket, shoes whatever you fancy) made of? If it's organic fabric great you're winning. Wood based fibres like tencel, and modal are also good options. If you see the word 'natural' I'd probably put the 'natural linen' shorts back on the rack and slowly back away out of the shop. Unfortunately, unless it's organic it ain't really natural. Fabrics like linen are grown using nitrates and treated with harsh chemicals which end up in our waterways and harming our eco-system. Big No, No. Another item I would avoid is activewear made from recycled plastic bottles. Do not go to the gym and sweat it out in a pair of plastic leggings, opt for natural fibres like organic cotton or bamboo, much better for your body as well as our beloved planet. Another great option is clothing made from deadstock fabric, that's fabric that's been discarded by big brands and would otherwise be sent to landfill. It's kind of like a second-hand garment made into a fresh new style. So, check that garment tag or the online description before moving on to question six. 
Question six; Where is this garment made? Ok so this question isn't as easy to answer when you're in a physical store, but if you have time to go to the shops and try on clothes that you need, you have time to jump on their website and see the transparency behind where they make their products. Ultimate transparency is what you're looking for including fairtrade certifications and standards. If they say they 'have a great relationship' with their garment workers, it could be true, but as a designer you don't have a say how the people making your clothes are treated especially when working with overseas manufacturers, so take some time to dig a little deeper. If in doubt get in contact with the brand or me and I'll do a quick recon for you!


So how do we make the swap? Opt for second hand or rental first, if you need a new piece of clothing make sure it's made from organic or repurposed fabric, try, and find out if there is any transparency on where it has been made and ensure it's fairly priced and accurately represents the true cost of what it takes to make clothes. Doing this will ensure garments are made with care and will last a lifetime. 
Never forget, you get what you pay for and it's the best time ever to support retailers and brands who deserve our support!