VIVA LA FASHION REVOLUTION 2023!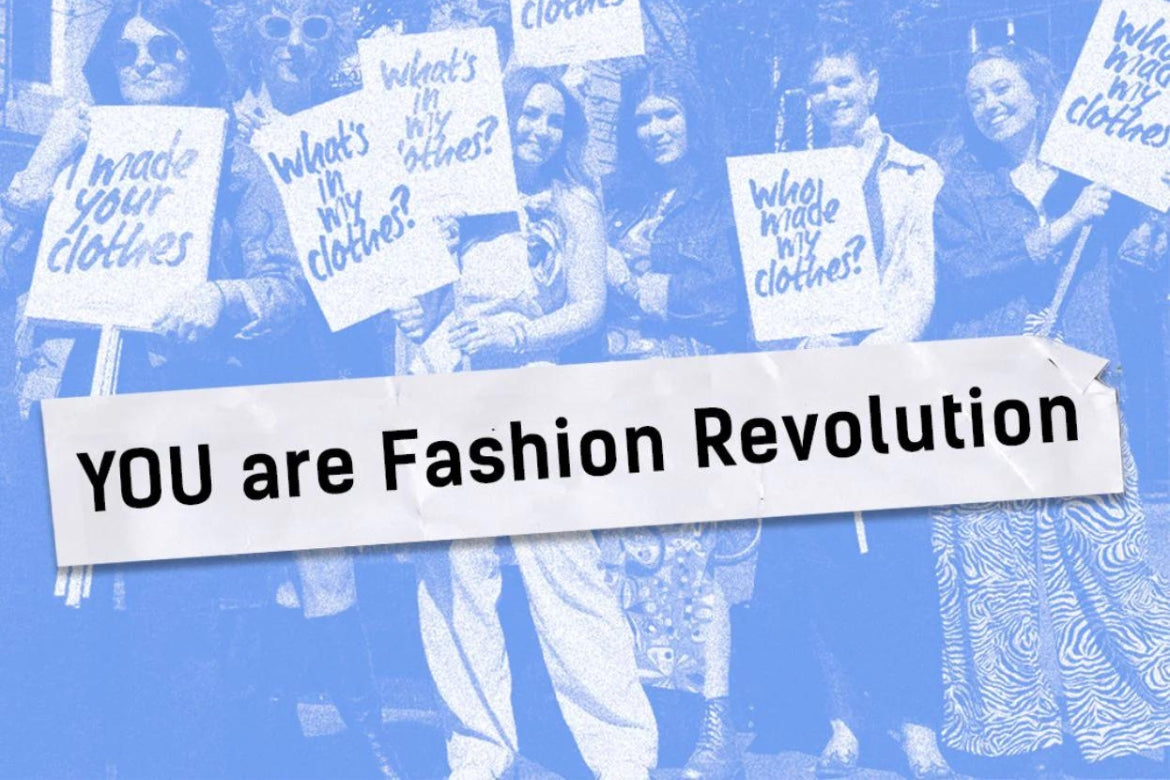 For anyone working in sustainable fashion, this week is one of the most significant weeks of the year, it's most likely one of the main reasons they work in sustainable fashion, that's a big call I know but I'm sticking with it. So, what's so special about this week? Its Fashion Revolution Week, the largest sustainable fashion activism movement in the world bringing people together, across 75 countries, to build a vision for radical change. The motivation behind this global movement stems from the tragic 2013 collapse of Rana Plaza in Bangladesh. I've written about this devastating event multiple times in our previous blog posts so if you are still unfamiliar with it you've either never read one of our blog posts or I'll assume you lost all ability to read. For the sake of my ego, I'm leaning towards the latter in which case I'll start recording a narrated version of our blog each week so you don't miss out.
The Rana Plaza factory building collapsed on April 24th, 2013, killing 1,134 people, and injuring 2,500 others. It is the fourth largest industrial disaster in history, the most unfortunate fact is that it was completely preventable. For those who are unfamiliar with the event, the building housed a bank, apartments, several shops, and clothing factories manufacturing apparel for brands such a Zara, Benetton, Mango, Primark and many more. When cracks were discovered in the building, the bank and shops were immediately closed, unfortunately for the garment workers they were forced to return the following day to continue working only for the building to collapse during the morning rush-hour. If you are into documentaries, I highly recommend watching The True Cost, it highlights events of the 2013 building collapse and the devastating effects fast fashion has on the health of the people that make those garments and the long-lasting impact it has on the environment. This documentary is where my journey in sustainability started, this movie will not only change your life but influence you to seek more meaning behind the things you buy.



The theme this year for Fashion Revolution week is 'Manifesto for a Fashion Revolution', we love fashion, but we don't want our clothes to exploit people or destroy our planet. There is a 10-point manifesto that guides us towards a better fashion industry that has people and planet at the fore. It highlights every aspect that goes into a brand, from supply chain transparency to textile waste, there is something we can all do towards each manifesto point to ensure our clothes are responsibly made. While the rise in sustainable fashion has increased over the last ten years, we still have a fair way to go. More brands are providing details about fabric, supply chains, increasing safety and providing a living wage for garment workers but the big brands are keeping a giant lid on it.
So, what can we do? We can support those brands that have the 10-point manifesto at the core of their business. Now I understand that we are all extremely busy, who has time to delve deep into the depths of how that cute knit you just saw on Instagram was made. 98% of people don't have time, but don't you worry, BLAEK Store has you covered. I'm part of the 2% that does have time and the BONUS is I do it for a living, I spend my days researching the best brands, doing the best for people and planet and then I put them all under one roof to make life easier for you. If you are keen to do some research yourself you should be able to find all the information you need on a brands website, if there is no mention of where fabric is sourced and garments are made a great action to take is to email the brand and ask a few questions, you have the right to know where the product you purchase comes from and what it's made of. 

Fashion Revolution Week is also a great opportunity to get involved and learn more about how the clothes you wear impact people and planet. There are some great local events happening that you can be a part of, I highly recommend the free BCorpANZ online panel 'Transparency in the Fashion Industry' involving our friends at Citizen Wolf, Kowtow Clothing and Upparel, or if you are in Sydney, the North Sydney Council is hosting a week long Living Futures Sustainability Festival sessions are free with an all-day event on Sunday 30th April.
As a community we are in a great position of power, we can change the world for the better. Let's ask more questions and demand more answers from the brands we want to wear. Come on this journey with us, we're in business to build a better future for all lives on planet earth.
"Dress sustainably, live responsibly."